Iraq holds a round of consultations with the International Monetary Fund to discuss economic affairs
07 Dec 2014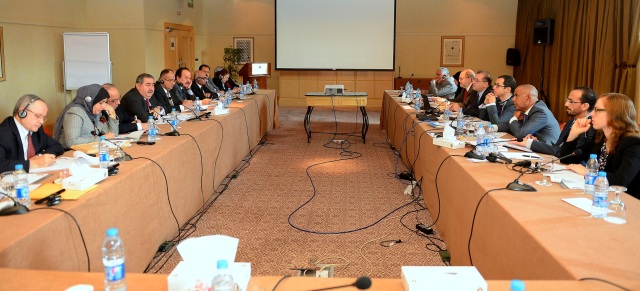 Alsumaria News / Baghdad
Iraqi government delegation headed by Finance Minister Hoshyar Zebari , Sunday, in the Jordanian capital Amman holding round of annual consultations with the International Monetary Fund aimed to investigate the effect of the war against ISIS on the Iraqi economy and to discuss the 2015 budget plan in Iraq.
The Iraqi Finance Ministry said in a statement, "Alsumaria News" received a copy of it, "Zebari led a delegation with the participation of the Central Bank, representatives of the Ministry of Planning and the Ministry of Oil, a number of financial and economic experts in the Jordanian capital Amman," pointing out that "the delegation held, today, annual round of consultations between the government and the International Monetary Fund (IMF)".
The ministry added that "Zebari presented an overview of political, security, economic conditions and the current plans and programs of the government in the next phase, in particular the 2015 budget submission to the House of Representatives, the fight against corruption and administrative and financial reforms."
She said, "This meeting aims to identify the impact of the the war against ISIS on the Iraqi economy and discuss the budget plan for 2015," indicating that "reviewed the situation in the oil sector and the impact of the deterioration of oil prices, economic activity and international needs and foreign market exchange, there was an exchange of views on the role of the International Monetary Fund to help Iraq through this difficult phase of the Iraqi economy."
It is said that oil prices declined considerably in the last period, called the Council of Ministers to form a committee, on (November 29, 2014) in order to compress unnecessary expenditure of the ministries within the budget of 2015 to reduce the fiscal deficit, that the Committee shall submit its report within a period from seven to ten days maximum, then sent to the House of Representatives as a prelude to read and be approved.
Source:
alsumaria.tv