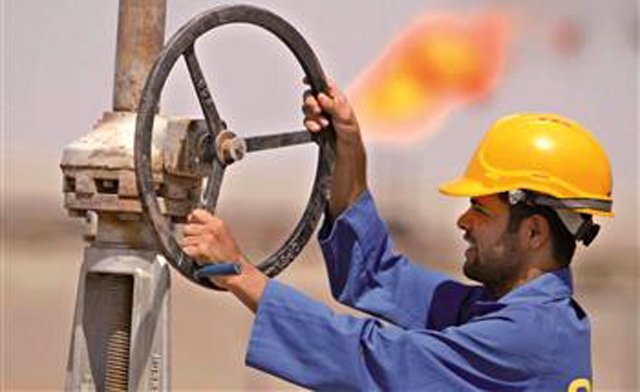 Iraq plans to increase its southern oil storage capacity to 8.5 million barrels by the end of 2013, to help cope with export bottlenecks caused by bad weather or technical problems, a senior Iraqi oil official said on Monday.
Speaking at the opening of four new oil storage tanks near the southern city of Basra, the head of the state-run South Oil Company said the new facility will add a capacity of one million barrels to existing 5.5 million barrels available.
"Today we have managed to add one million barrels and boost oil storage capacity up to 6.5 million barrels. Another two million barrels capacity will be added by end of 2103," Dhiya Jaffar told Reuters.
Jaffar said the storage capacity increase will help Iraq to pump crude to export terminals at the Gulf for a period of more than a week to avoid export halts during rough weather or any other unexpected glitches at the southern oilfields.
"Shutting down production because of weather has negative impact on oilfields operations, and is a source of tension with foreign oil firms. More storage capacity means less of these problems," Jaffar said.
Export infrastructure, rather than production, is the main hurdle to the OPEC-member keeping exports steady.
Iraq's oil exports fell to 2.34 million barrels per day (bpd) in December from 2.62 million bpd in November due to rough weather and technical problems with a single point mooring terminal in the Gulf.
Source: Al Arabiya
Berita Minyak Iraq: Iraq merancang untuk meningkatkan simpanan minyak selatan sebagai resolusi 2013 tahun baru
Iraq merancang untuk meningkatkan kapasiti penyimpanan minyak selatan kepada 8.5 juta tong menjelang akhir tahun 2013, untuk membantu menangani kesesakan eksport disebabkan oleh cuaca buruk atau masalah teknikal, kata seorang pegawai kanan minyak Iraq pada hari Isnin.

Bercakap pada pembukaan empat baru penyimpanan tangki minyak berhampiran bandar selatan Basra, ketua Syarikat Minyak yang dikendalikan oleh negeri Selatan berkata kemudahan baru itu akan menambah kapasiti satu juta tong kepada 5.5 juta tong sedia ada yang ada.

"Hari ini kita telah berjaya menambah satu juta tong dan meningkatkan kapasiti penyimpanan minyak sehingga 6.5 juta tong. Satu lagi kapasiti dua juta tong akan ditambah oleh akhir 2103, "Dhiya Jaffar kepada Reuters.

Jaffar berkata peningkatan kapasiti penyimpanan akan membantu Iraq untuk mengepam mentah untuk mengeksport terminal di Teluk bagi tempoh lebih daripada seminggu untuk mengelakkan menghentikan eksport semasa cuaca kasar atau sebarang masalah lain yang tidak diduga di telaga minyak selatan.

"Menutup pengeluaran kerana cuaca mempunyai kesan negatif ke atas operasi telaga minyak, dan merupakan sumber ketegangan dengan syarikat minyak asing. Kapasiti simpanan yang lebih bermakna kurang masalah-masalah ini, "Jaffar berkata.

Infrastruktur eksport, bukannya pengeluaran, adalah halangan utama kepada ahli OPEC penyimpanan eksport stabil.

Eksport minyak Iraq jatuh ke 2340000 tong sehari (tsh) pada Disember daripada 2620000 tong sehari pada bulan November kerana cuaca yang kasar dan masalah teknikal dengan satu titik tambatan terminal di Teluk.
Source:
Al Arabiya